In heavy construction equipment, nothing lasts forever -- even the simplest part from your bucket to your blinkers has a working life -- and though you can do your best to extend a part's life through proper care and proper use, some day that part is going to tap out. In the case of the final drives on your excavators, bulldozers, or other construction machines that breakdown can have you worrying and scrambling for a replacement. If that's your case today (or you're just planning ahead), we've put together this short, simple guide to help you weigh your options, make swift and sound decisions, and find your replacement final drive fast.
❱❱
About Excavator Final Drives and Other Final Drives
If this is your first trip into final drives, it's important to understand the function final drives fill on your machine. At their most basic, final drives transfer power from the drive system to the tires or tracks using a number of gears designed to reduce speed and increase torque.
Because of their location on the machine and the work they're designed to perform, final drives must be designed to work in rough conditions, handle high torque and high wear work, and hold up to impacts and vigorous work situations.
The internal components of a final drive consist of a number of gears and shafts working together and even though proper lubrication must be maintained at all times, even with ideal lubrication the parts within a final drive will eventually become worn and (possibly) even fail.
Learn more about final drives in our What Is a Final Drive article.
❱❱
Final Drive Replacement Options
When the time does come to replace a final drive, you'll find you have a few options: new from the original equipment manufacturer, new aftermarket final drives from another final drive manufacturer, rebuilt OEM final drives, or used final drives. We'll talk through each option below.
Should I buy a used final drive?
If you have budget first on your brain, you might be considering a used final drive, but before you buy, think strongly about what you'll get and if it'll be worth it in the long run. Since your final drive is a key component on your machine and the time and cost of the repair can be considerable, you'll want a final drive that will deliver for the long term. There might be a unicorn out there, but knowing a used final drive was treated well and is up to the job is often a risky bet.
Should I buy a remanufactured or rebuilt final drive?
A rebuilt final drive is the middle ground between used and new and with a little researching and reading a rebuilt final drive can often be a good option. There are, however, boxes to check before you purchase. First and foremost, before you buy you'll want to be sure you're buying from a respected final drive rebuilding shop. When ensuring you're buying from a reputable source consider:
History of the Company
New companies pop-up, get poor reviews, and disappear but the top companies have established themselves by the quality of their work.
Final Drive Warranty
A used final drive won't last forever, but you should expect the company to stand behind their work for some amount of time.
Documented and Clear Processes
Knowing where your final drive and the replacement parts came from and how it was rebuilt is a clear indication of how it will perform. Even starting with the basic question, "Did your team rebuild this final drive themselves or are you just reselling it?" is a good starting point to knowing care and knowledge went into the rebuild.
Should I buy an aftermarket or a new OEM final drive?
If you looked at your machine, considered your work, and decided on buying a new final drive, you're probably wondering now if you should pay more for a final drive from the machine's dealer or take advantage of the cost savings of an aftermarket final drive. Again, with a little research and reading, you'll often find aftermarket final drives deliver OEM quality at much less than the OEM prices, but be sure to secure your final drive from a reputable source. When considering an aftermarket final drive you should consider:
History of the Company
Just like in rebuilds, companies with a long track record as a brand have stayed around for a reason.
Final Drive Warranty
The top final drive companies stand by their work and they show that with a strong warranty.
Fit and Porting
You should expect your replacement final drive to be a step closer to getting back up and running, not just a new piece in the puzzle. Make sure your final drive is designed for your machine and comes ready to go.
Backed by Knowledge and Service
Behind the finished product, you should expect deep knowledge of the industry and quick connections to service, parts, and answers.
❱❱
What Basic Information Will You Need to Get Started in Your Final Drive Search
Whatever you've decided on for your final drive (used, rebuilt, or new), you'll need some basic information to make sure the final drive you find is exactly the final drive you need. Luckily, if you're connecting with a company with a history in the industry, you'll find some pretty basic information should be enough. When searching for a replacement final drive, try to collect:
Machine Make, Model, and Serial Number
For most, the days of stopping by the dealer and flipping through the scritta paper parts books is a thing of the past, but often with a basic make, model, and serial number an established final drive source will be able to use their own systems to connect you to the proper part number. And, as long as you have access to the machine, generally these are three identifiers that should be pretty simple to find. Most machines will have this information etched onto a plate on the machine. Having trouble finding that plate? Check your operator's guide or talk to a dealer or final drive provider who might be able to help point the way.
Final Drive Part Number
When looking for the key to your parts cryptex or the path out of your parts puzzle, the part number is often the clearest route to the end of your parts search. When you contact your final drive provider, send along a manufacturer and a parts number and the odds of connection will go up greatly. And, if their inventory is up to the challenge, you'll be that much closer to being back in action.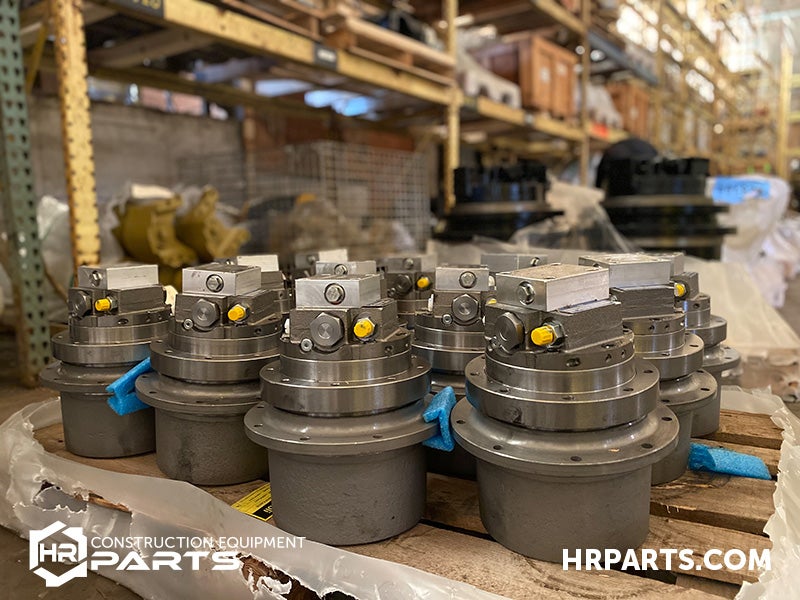 Here's hoping this short final drive buying guide helped add a little clarity to your final drive search. As an industry leader in both rebuilt final drives and aftermarket final drives, we're passionate about connecting people to the parts that will get their machines up, running, building, and working. And, of course, if you need help in your search, our Parts Specialists are here to help -- they're more than just a sales team, they're your resource for knowledgeable insight and deep connections to a vast parts network, both our's and around the world.